New Mexican American Restaurant in Westerly RI
Surf Cantina started with a couple of goals in mind; to provide delicious food and drinks in an ambiance that you cannot beat. Drawing inspiration from bold Mexican flavors and a vintage coastal aesthetic, our team is driven to create an unforgettable dining experience.
The staff here at Surf Cantina are here to ensure you have a great experience no matter the occasion. As a local restaurant in Westerly, we are driven to create a neighborhood feel in the restaurant that makes each and every guest feel right at home.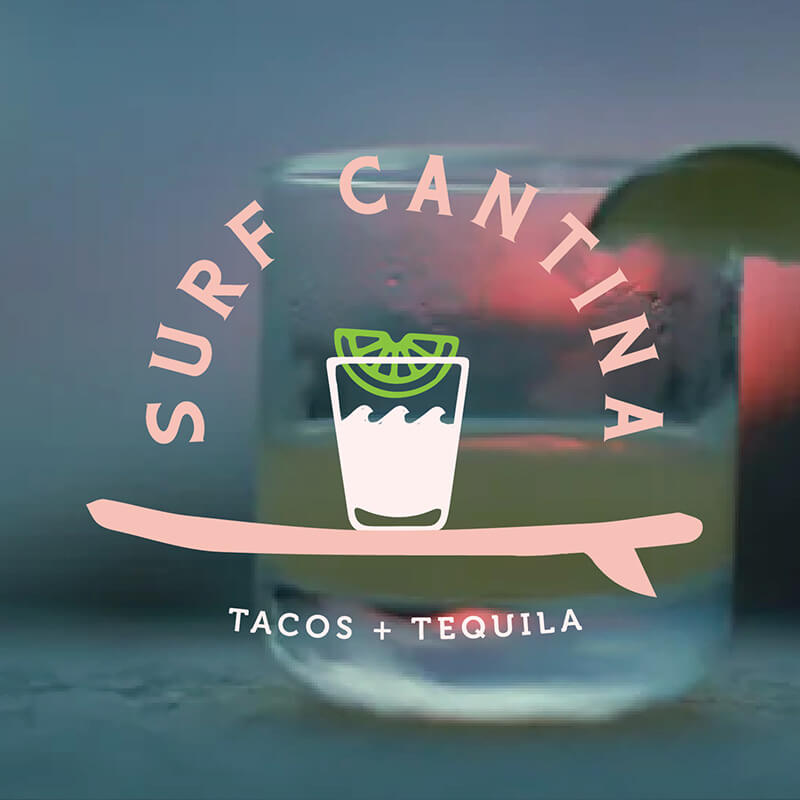 Whether it's our famous tacos, mouthwatering Cantina guac, scrumptious skirt steak Asada, or flavorful margarita, all of our food and drink options are made with the utmost quality in mind. While tacos & tequila is our specialty, we have something for everyone and we can accommodate any dietary restriction.
Don't hesitate to dive into our extensive food and drink menus to explore the bursting flavors of Mexican-inspired cuisine… we promise your taste buds will thank us later!
Stop in For Lunch or Dinner Today
If you're looking for a joint to satisfy all of your taco and tequila cravings, Surf Cantina is the place to be. We promise you that you will leave the restaurant with a full belly, heart, and spirit. Let's dive into the reasons why you'll be coming back for more here at Surf Cantina…
Neighborhood Mexican American Restaurant
Surf Cantina is proud of the Mexican influences we put in all of our dishes and beverages. A few of the many Mexican dishes that we have perfected include street corn, queso, carnitas, and tortilla soup, to name a few!
Lounge and Pool Tables
Here at Surf Cantina, we are committed to delivering so much more than just food and drinks! We want all of our guests to have a blast throughout their dining experience, which is why our establishment has a pool table and a lounge area to give you the space to let loose with friends and family.
Bar and Restaurant
The great part about Surf Cantina is that we prioritize both our bar and restaurant equally. So, whether it's grabbing drinks with coworkers during happy hour or celebrating your child's birthday dinner, Surf Cantina is a place that welcomes all ages and walks of life. With a bar with over 40 seats and several dining rooms with traditional tables to choose from, we have the perfect dining ambiance for everyone that might stumble in.
Live Entertainment
We regularly book live entertainment to add even more flair to the environment of Surf Cantina. You can expect to regularly enjoy the company of some of the areas most talented musicians and entertainers.
Locally Owned
If you take the time to swing by Surf Cantina, you'll feel good knowing you're supporting a small and locally owned business. We make sure to use as many local ingredients in all of our dishes to uplift the Westerly community as much as we can.
Weekend Brunch
In addition to our early evening and dinner menu daily, Surf Cantina is also open on Saturday and Sunday for Brunch. We feature bottomless libations and also offer a separate lunch menu.
Surf Cantina Contact Info
Are you ready to experience our unmatched menu and ambiance for yourself? For access to the best tacos and margaritas in Westerly RI, Surf Cantina is truly the place to be! Give us a call or shoot us an email to snag a table. We look forward to seeing you soon and welcoming you to our home.
Location & Hours
Street Address
15 Canal Street Westerly, Rhode Island, 02891
Kitchen Hours
Monday - Thursday: 4pm - 10pm
Friday: 4pm - 11pm
Saturday: 12pm - 11pm
Sunday: 12pm - 10pm
Bar Hours
Open all week till 1am